Reviews of Moth Conspiracy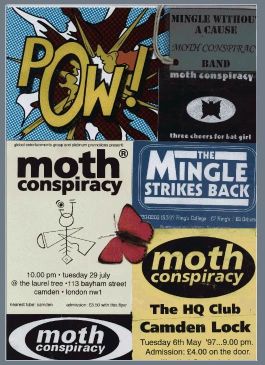 "(The Album) Pow is.....a truly ambitious work swathed in Saxophones, trumpets, violins and occasional Spanish vocals. the only way to describe it is that it would be the probable result of a mixed media jam in a chocolate factory involving The Divine Comedy, Supergrass, Portishead and Pulp.....In other words it's ridiculously pretentious and kitsch but totally conscious of this, and therefore oozing with self confidence and sheer talent." Rated four stars.
Ashley Smith, Creme Anglaise.

(From the album Pow )"...they oscillate between funk, indie, rock and Serge Gainsbourgh type ballads utilizing their musical prowess to the full... Possess you is a fiery song with a frustrated edge. ...First Among the Small has Spanish attitude and 007 is pure cheese.
Dracula has a Fleetwood Mac glow, galloping all over the place. Shallot Man is the best track , peaceful, philosophic and calm."
Nic Wood, Astroturf